Gritt's Farm is the place for perfect pics!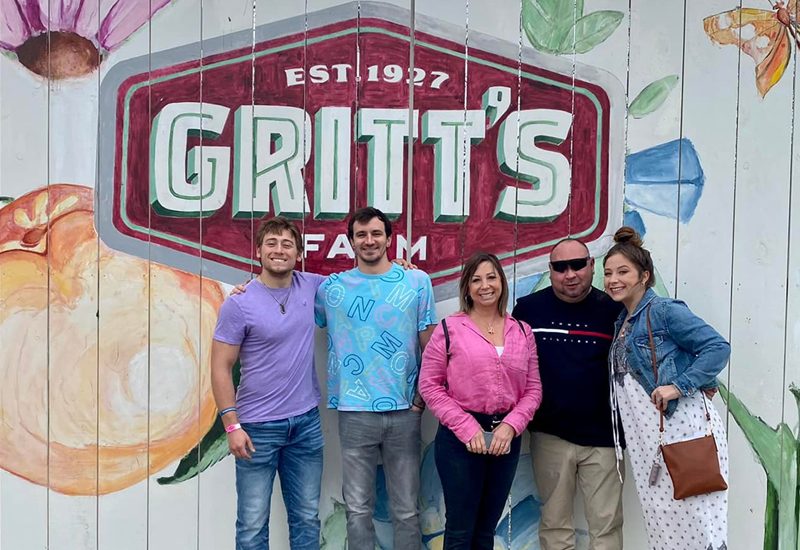 Gritt's Farm Photography Policy
Effective June 25th – October 30th, 2022 | Flower Field Events & Gritt's Fun Farm
Featuring blooming flower fields on select summer weekends and a 6-week fall festival with a pumpkin patch, corn mazes, n'more! We welcome amateur and professional photographers!
Everyone entering Gritt's Farm property must purchase a General Admission ticket, and adhere to our farm rules.
Thank you for choosing us as your photography site and following our photography policy!
Amateur Photographers
A Photo Pass is not required for Amateur Photographers.
For Amateur Visitors/Photographers, We Welcome You To:
Take photos during Flower Field & Fun Farm business hours only. No one is permitted on Gritt's Farm property before or after business hours.

Take photos of any public area of the Farm.

Purchase a General Admission ticket. Everyone taking photographs & being photographed must purchase a General Admission ticket to access events/attractions.
Enter any of the areas marked No Access, Do Not Enter, or areas with working farm equipment.

Disturb flowers, vegetation, crops, displays, etc.
Professional Photographers
We welcome those who wish to use Gritt's Farm as a backdrop/setting for any portrait/commercial photography, even if the photographer is not compensated, financially or otherwise. Professional Photographers must purchase a Professional Photography Season Pass or Single-Day Pass.
Portrait photography is defined as, but not limited to: Senior, Engagement, Family, Graduation, Wedding, Lifestyle, etc.

Commercial photography is defined as, but not limited to: Catalog, Fashion, Advertisement, Promotion, etc.
Photo Credit/Social Media
All photos shall be identified as being photographed at Gritt's Farm. Any online photo galleries or images shall have a link to our website www.grittsfarm.com.
If photos are posted online or on social media sites, Gritt's Farm requests attribution and requests photos are tagged @grittsfarm on social media.
The use of drones is subject to approval. Contact us with requests.

All photos should be family friendly in nature.

No public area may be closed or blocked to customers during a photo shoot.

Please be courteous and polite to all visitors and customers.

Our staff is not responsible for directing clients to your photo shoot location.

Gritt's Farm reserves the right to halt any photography sessions deemed to be disruptive.

Gritt's Farm assumes no responsibility for loss, theft, or damage to any equipment or belongings.

Unauthorized portrait/commercial photography sessions may be escorted from the Farm.