Take your students on an adventure to Gritt's Fun Farm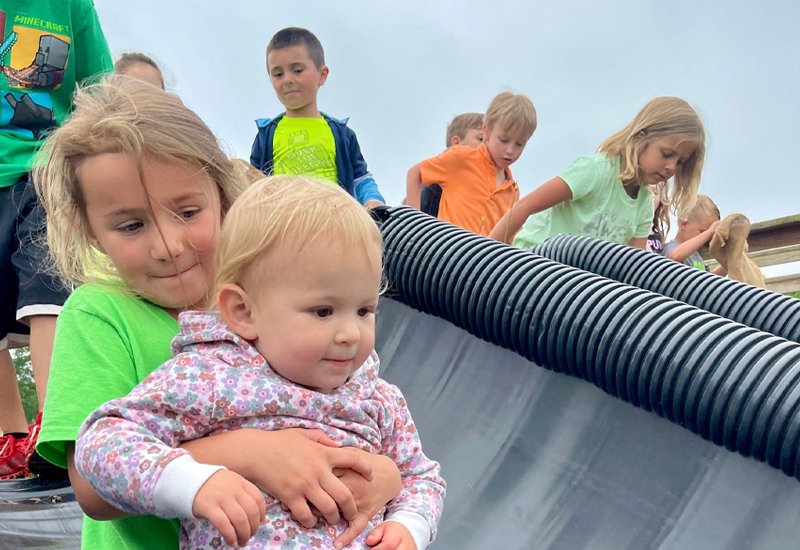 Gritt's Fun Farm School Trips: SEP. 21 – OCT. 27, 2023 *SOLD OUT*!
Experience Gritt's Farm in its full glory. Each fall, all 300 acres of our Buffalo, WV farm land transform into a fall fun destination. Gritt's Fun Farm features nearly 30 attractions and learning experiences for students to enjoy.
Price: $11.95 per student

Pricing NOW includes 1 Pie Pumpkin, Donut, & Apple per student!

NEW! Self-Guided Tours, facilitated by Gritt's Farm.
School Tours are SOLD OUT for the 2023 season. See y'all next fall!
Self-Guided Tours!
Field Trips will be guided by Teachers & facilitated by Gritt's Farm! What does that mean? Teachers will be responsible for separating groups into 40 students or less upon arrival at Gritt's Fun Farm and guiding them through the experience. Gritt's Farm will supply Teachers with a schedule of events upon arrival at Gritt's Fun Farm.
Gritt's Farm Tour Guides will be on-hand throughout the farm to help facilitate the experience & answer any questions.
All students must stay with teachers at all times.

At no point are teachers, chaperones, or students permitted to leave the tour and venture out on their own.

Most tours are about 3 hours long, and we'll be sure to help you cover as much ground as possible!
All buses are to park in our designated upper-gravel bus parking lot. Children and teachers must stay on the bus until further instruction is given by a tour guide. The teacher who has the Fun Farm Field Trip payment should be ready to give it to a tour guide once the guide has boarded the bus. Fun Farm rules and regulations will be discussed with the students, then the real fun begins!
Teachers are encouraged to print off directions and give them to the bus driver on the day of the trip or prior to the trip, if desired. Please be sure to allow enough travel time to reach the farm for your scheduled appointment. Classes arriving late may miss out on activities. We suggest arriving about ten minutes early so that we may take care of the bookkeeping & ensure that students receive the ultimate Gritt's Fun Farm experience!
Please do NOT rely on GPS to get you to the farm, or you may end up on a gravel road! We recommend utilizing the WAZE travel app for the fastest route from your school.
Additional Rules & Regulations